WINTER WHALES OF NORWAY, 2019-2020
At 69 degrees North, Tromsø lies some 350 kilometres above of the Arctic Circle and is Norway's gateway to the High Arctic.
Every winter, snorkelers and wildlife enthusiasts alike witness to one of the great wildlife spectacles on the planet—orcas and humpbacks congregating in northern Norwegian fjords to feed on vast schools of herring. The herring usually arrive in the northern fjords of Norway in early November. Hundreds of orcas congregate in the northern fjords, followed by humpbacks—and, this is what the excitement is all about…
Orcas and humpbacks follow the herring, creating bait balls as they hunt for food. Relying upon local experts and the science community, we stay in touch about the location of the whales, hoping to witness them while feeding on the fish.
Team Sedna will spend a week aboard the MV Freya, snorkelling with orcas and humpbacks during the winter herring run and undertaking scientific research which includes: the photographic, acoustic and genetic identification of orcas; ocean conditions (conductivity density and salinity); marine geology; micro-plastics and plankton analyses.
Our expert snorkel guides provided by our partner, Waterproof Cruises & Expeditions, will educate us about the orcas' behavior, including describing how to snorkel with these whales in a safe and non-disturbing way. These experts will provide a ship-based educational lecture program about orca conservation and research and other interesting topics on local wildlife.
Daylight hours are short at the end of November, and we'll experience twilight during part of the day. At night, the aurora borealis will dance across the northern skies.
Women's Leadership Program
Prior to embarking on our live-aboard expedition vessel, to snorkel with orcas and humpbacks, the Sedna Epic will run a 2 ½ day women's leadership program in Tromsø to discuss the growing representation of women in exploration and STEMM (Science, Technology, Engineering, Mathematics, Medicine) careers. Sedna's Indigenous team members, including Saami from Scandinavia and Inuit from Greenland and Nunavut, Canada, will provide insights about the unique issues that Inuit women face in circumpolar countries.
During the leadership program we'll connect with Sami women—much like we've connected with Inuit women and girls during Sedna's expeditions—to better understand this part of the Arctic, its history, geography, and the culture and traditions of its Indigenous people.
The November 2019 expedition is a pilot for Sedna's two back-to-back Women's Leadership Programs and Winter Snorkel Expeditions to Tromsø in November 2020. We still have a few spots left in our 2020 expeditions, and are actively recruiting team members. If you're interested in joining us, please send an email to info@sednaepic.com.
Winter Whales of Norway
What on earth are they discussing? Expedition leader @SusanREaton_Geo (she's in the electric pink drysuit) chats with Sedna's chief scientist & underwater videographer Cynthia Matzke during the film shoot in Norway in Nov' 19 #womenofadventure @Garmin @sednaepic @WaterproofExped
Twitter feed video.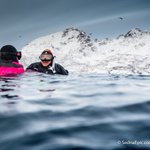 Load More...
Visit us on Twitter
ᐅᖃᐅᓯᓕᕆᔾᔪᑎᕗᑦ ᐅᓪᓗᒥ
Word of the day
ᐅᒃᐱᔾᔪᐊᖅ
Ukpijjuaq (Uk-pij-ju-aq) Owl

(Image: Kenojuak Ashevak's Owl's Bouquet)
Check out the link below!
ᖃᐅᔨᒋᐊᕐᓗᒍ ᓇᕿᑐᐃᓐᓇᕆᐊᓕᒃ ᐊᑖᓂ!
soundcloud.com/user-817699715/owᐅᖃᐅᓯᓕᕆᔾᔪᑎᕗᑦ ᐅᓪᓗᒥ
Word of the day
ᐅᒃᐱᔾᔪᐊᖅ
Ukpijjuaq
Uk-pij-ju-aq
Owl
(Image: Kenojuak Ashevak's Owl's Bouquet)

Check out the link below!
ᖃᐅᔨᒋᐊᕐᓗᒍ ᓇᕿᑐᐃᓐᓇᕆᐊᓕᒃ ᐊᑖᓂ!
soundcloud.com/user-817699715/owl ... See MoreSee Less
The Sedna Epic Expedition's sea women also used the Garmin inReach units to get latitude-longitude coordinates of the sea water samples they collected in Norway's northern fjords, which contain orca DNA!
Garmin Outdoor Garmin Marine Waterproof Cruises & Expeditions ... See MoreSee Less
Load More...
Visit us on Facebook
Channeling Shackleton
Who would be crazy enough to answer such a cryptic appeal, inspired by Sir Ernest Shackleton's famous 1914 advert—in a London newspaper—recruiting men for a perilous Antarctic expedition? Channeling the same spirit of polar exploration one hundred years later, Susan R. Eaton, founder and leader of the 2014-2018 Sedna Epic Expedition, advertised for all-female crew in mid-2013. Ten female ocean explorers, aged 26 to 56, from Canada, the United States, Mexico and New Zealand answered this intriguing call to attempt a world record—a snorkel relay of the Northwest Passage—and to go 'where no man has gone before.' In parallel, Milos Simovic, the owner and captain of the MV Cape Race, a 116-foot side trawler converted to carry passengers, placed his own Shackleton-inspired advert for crew. In July 2014, Team Sedna will mount its proof-of-concept expedition to Labrador, Baffin Island and Greenland, aboard this Canadian-built vessel that's used to plying arctic waters.