THE 2014-2018 SEDNA EPIC EXPEDITION
Coinciding with the 100th anniversary of women's right to vote in Canada, the Sedna Epic Expedition's sea women will mount their third polar dive and snorkel expedition to the High Arctic (since 2014), scouting, documenting and recording disappearing sea ice.
The Sedna Epic is comprised of a team of women ocean explorers, scientists, artists, educators, adventurers, and medical and scuba diving professionals from Canada, the USA and Mexico. Sedna's sea women aim to create citizen scientists in Nunavut, empowering youth, girls and young women to become the next generation of Inuit leaders to tackle climate change, ocean change and societal change in the Arctic. During August 4-18, 2018, in partnership with Adventure Canada and Ocean Quest Adventures, Sedna's sea women will explore Nunavut and western Greenland (see press release for additional details).
The Sedna Epic's signature ocean knowledge mobilization program—called "bringing the ocean to eye level"—is the cornerstone of every arctic expedition. In consultation with Inuit advisors, Sedna's sea women deliver their hands-on, experiential ocean knowledge sharing program in Inuit communities, via mobile touch aquariums temporarily housing sea critters and by running underwater robot-building camps for youth. Taking the concept of "bringing the ocean to eye level" to its ultimate conclusion, Sedna's sea women lead Inuit girls and Elders on snorkel safaris to explore the marine biodiversity in their own backyards, so to speak…
Katujjiqatigii is Inuktitut for working together, shouldering the burden together, side by side. And, this spirit of North-South reconciliation and cooperation pretty much summarizes the Sedna Epic Expedition's mission and vision. Johnny Issaluk, one of Sedna's Inuit advisers from Nunavut, named Sedna's expedition Katujjiqatigiit, because of its North-South relationship building and its cross-cultural educational outreach.
What's #snorkelgeology? In the #Silfra Rift, Sedna's #seawomen placed one hand on the North American tectonic plate and the other on the Eurasian tectonic plate, which are spreading apart at 2-3 cm/yr #Thingvellir #Iceland #WomenoftheArctic @RCGS_SGRC @CanGeoEdu @jillheinerth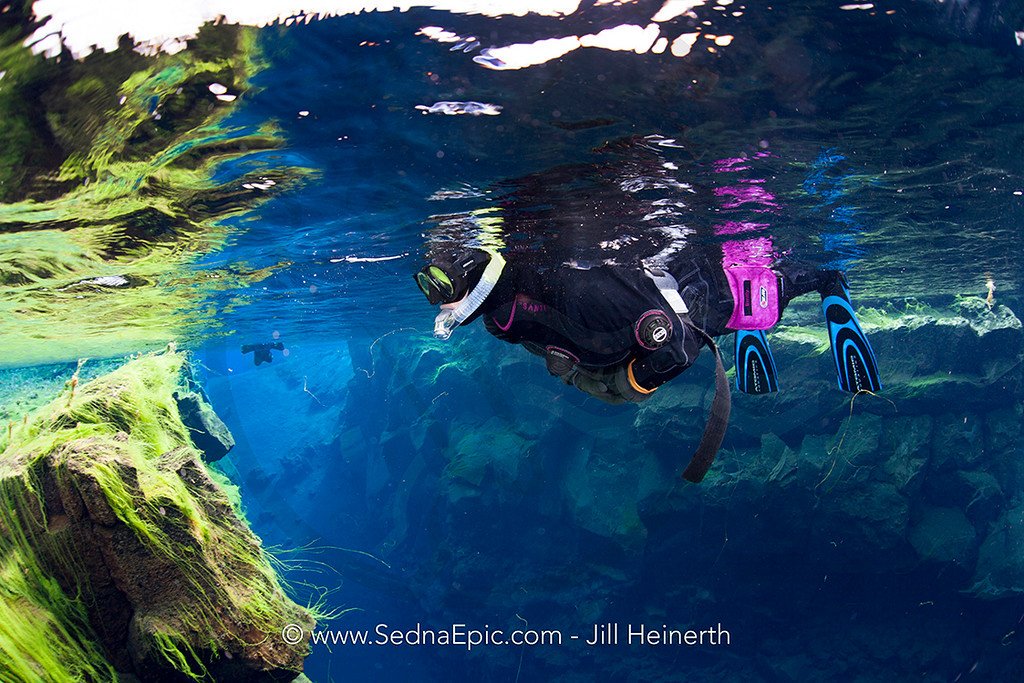 Susan R. Eaton on Twitter
"Slime green algae! Looking forward to delivering the #plenarylecture on June 24 at the Phycological Society of America's AGM in #HollywoodBeach...
twitter.com
Load More...
Visit us on Twitter
The Sedna Epic Expedition was honoured to collaborate on the Polar Burrito with the third year design students at the Wilson School of Design at KPU in Vancouver, British Columbia.

Join Sedna's sea women in voting on Core77 by July 8, helping the Project Burrito win a Community Choice Prize: bit.ly/31DdHdf

Congratulations the Year 3 Product Design students at Project Burrito, which was awarded Student Runner-Up under the Commercial Equipment Award for the Core77 Design Awards 2019. The product design program uses user-centred design approach that teaches students how to design with intent and research and testing is a large part of that process.

By focusing on addressing problems and creating solutions, the students designed the Polar Burrito hypothermia blanket for post-water rescue victims. This project was an incredible example of industry collaboration with the Sedna Epic, Mustang Survival, Arc'teryx, lululemon and the Canadian Coast Guard.

The students tested the Polar Burrito while wearing Sedna's Ladies First SANTI Diving drysuits, which were loaned to them by Sea Dragon Charters of Horseshoe Bay, British Columbia.

Sedna's Susan R. Eaton assisted with field testing, prototyping and student-led initiatives. Team Sedna transported the Polar Burrito to Nunavut and Greenland during its August 2018 dive and snorkel expedition. Luckily, we never had to deploy the Polar Burrito for divers with hypothermia...Congratulations to our recently graduated Product Design students! Their 3rd year "Project Burrito" was awarded Student Runner-Up under the Commercial Equipment Award for the Core77 Design Awards 2019. Our product design program employs a user-centred design approach that teaches students how to design with intent, and research and testing is a large part of that process.

The purpose of the Polar Burrito is to mitigate the effects of hypothermia in post water rescue victims by using passive rewarming technology. This project was an incredible example of industry collaboration with Mustang Survival, field testing and prototyping with Sedna Epic Expedition and student-led initiatives. We are so proud!

Vote on Core77 by July 8th to help award Project Burrito a Community Choice Prize! Link: http://bit.ly/31DdHdf ... See MoreSee Less
Thank you Susan and @SednaEpicExpedition - We couldn't have done this project without you / your input as a Polar explorer and the perspectives and experiences you shared in regards to the conditions you and the team face, were the source of many insights and inspiration to design this protective equipment. Thank you
Slime green algae! On Monday, June 24, Sedna's Susan R. Eaton will deliver the plenary lecture at the annual general meeting of the PSA Algae: Phycological Society of America in Hollywood Beach, Florida.

Sedna's sea women discovered this slime green Troll's Hair while diving and snorkelling the fresh waters of the Silfra Rift in Þingvellir, Arnessysla, Iceland Þingvellir.

During our dive and snorkel expeditions of northern Labrador, Nunavut and Greenland, we discovered lush beds of brown seaweed (or algae) which shelter hundreds of species of fishes and invertebrates in the Arctic.

#seaweed #algae #brownalgae #phycophiles #phycology #kelp #kelpforests SANTI Diving Halcyon Dive Systems Suunto Diving NAUI Worldwide PADI Adventure Canada Arctic Kingdom First Air, Fly the Arctic Frobisher Inn Aquasport Scuba Centre Scuba 2000 Extreme Exposure Adventure Center Great Lakes Divers Total Diving Aquarius Scuba Dive Brockville Adventure Centre & Abucs Scuba Charters Huish Outdoors Kirk Scuba Gear The Scuba News Challenger Geomatics Silfra, Þingvellir National Park ... See MoreSee Less
Load More...
Visit us on Facebook
Channeling Shackleton
Who would be crazy enough to answer such a cryptic appeal, inspired by Sir Ernest Shackleton's famous 1914 advert—in a London newspaper—recruiting men for a perilous Antarctic expedition? Channeling the same spirit of polar exploration one hundred years later, Susan R. Eaton, founder and leader of the 2014-2018 Sedna Epic Expedition, advertised for all-female crew in mid-2013. Ten female ocean explorers, aged 26 to 56, from Canada, the United States, Mexico and New Zealand answered this intriguing call to attempt a world record—a snorkel relay of the Northwest Passage—and to go 'where no man has gone before.' In parallel, Milos Simovic, the owner and captain of the MV Cape Race, a 116-foot side trawler converted to carry passengers, placed his own Shackleton-inspired advert for crew. In July 2014, Team Sedna will mount its proof-of-concept expedition to Labrador, Baffin Island and Greenland, aboard this Canadian-built vessel that's used to plying arctic waters.