THE 2014-2018 SEDNA EPIC EXPEDITION
Coinciding with the 100th anniversary of women's right to vote in Canada, the Sedna Epic Expedition's sea women will mount their third polar dive and snorkel expedition to the High Arctic (since 2014), scouting, documenting and recording disappearing sea ice.
The Sedna Epic is comprised of a team of women ocean explorers, scientists, artists, educators, adventurers, and medical and scuba diving professionals from Canada, the USA and Mexico. Sedna's sea women aim to create citizen scientists in Nunavut, empowering youth, girls and young women to become the next generation of Inuit leaders to tackle climate change, ocean change and societal change in the Arctic. During August 4-18, 2018, in partnership with Adventure Canada and Ocean Quest Adventures, Sedna's sea women will explore Nunavut and western Greenland (see press release for additional details).
The Sedna Epic's signature ocean knowledge mobilization program—called "bringing the ocean to eye level"—is the cornerstone of every arctic expedition. In consultation with Inuit advisors, Sedna's sea women deliver their hands-on, experiential ocean knowledge sharing program in Inuit communities, via mobile touch aquariums temporarily housing sea critters and by running underwater robot-building camps for youth. Taking the concept of "bringing the ocean to eye level" to its ultimate conclusion, Sedna's sea women lead Inuit girls and Elders on snorkel safaris to explore the marine biodiversity in their own backyards, so to speak…
Katujjiqatigii is Inuktitut for working together, shouldering the burden together, side by side. And, this spirit of North-South reconciliation and cooperation pretty much summarizes the Sedna Epic Expedition's mission and vision. Johnny Issaluk, one of Sedna's Inuit advisers from Nunavut, named Sedna's expedition Katujjiqatigiit, because of its North-South relationship building and its cross-cultural educational outreach.
Next weekend, our #seawomen will earn @PADI certifications for the safe operation & maintenance of diver propulsion vehicles (DPVs). Since 2014, the #SednaEpic has worked with Seattle-based partner @DiveXtras who manufactures the #DPVs we use in the Arctic #PADIWomensDiveDay #PNW
Twitter feed video.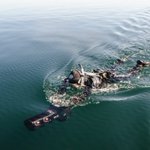 Scientists @NAU @EcossNau pioneer a new way to track soil carbon in #permafrost in Alaska: In addition to carbon entering the atmosphere via greenhouse gases, dissolved waters in the soil carry #carbon into streams and rivers @NatureGeosci @victorleshyk https://t.co/YDLTW6PRGK
Load More...
Visit us on Twitter
Kiviuq following a lemming with his eyes shut....by Ningiukulu Teevee.

Tavvauna, exhibition of Cape Dorset drawings is online and at Studio22 now!
#capedorset #inuitdrawings #womenartists #kiviuq #legends #landscapes #kinngait ... See MoreSee Less
New research from Northern Arizona University shows even more carbon is being released from thawed permafrost than climate scientists previously thought.

César Plaza, Christina Schädel and Ted Schuur, professors in the Center for Ecosystem Science and Society - Ecoss, authored a paper published this month in Nature Geoscience that introduces a new way to track soil carbon in permafrost, which changes their understanding of how environmental change influences ecosystem carbon storage. The experiment builds on a long-term permafrost tundra warming study Schuur and other collaborators are doing in Alaska.

"This study was novel because we used new methods to directly track the soil carbon losses, and they were much higher than we previously thought," Schuur said.

"This suggests that not only is carbon being lost through greenhouse gases directly to the atmosphere but also dissolved in waters that flow through the soil and likely carried carbon into streams, leaves and rivers."

This study quantifies soil carbon in relation to a fixed ash content, which uses the mineral component of soil as a metric for pool comparisons over time, which enabled the team to get direct measurements of changes in soil carbon. They used this approach to directly measure soil carbon pool changes in a five-year period, showing an annual loss of more than 5 percent of soil carbon.

"Our results demonstrate the potential for repeated measurements that quantify changes in soil carbon across the entire permafrost region to better understand its environmental fate," the study reads. "An effort such as this is a critical and currently overlooked link to determine the magnitude of the terrestrial permafrost carbon to climate change."
phys.org/news/2019-07-scientists-carbon-permafrost-atmosphere-higher.html ... See MoreSee Less
Load More...
Visit us on Facebook
Channeling Shackleton
Who would be crazy enough to answer such a cryptic appeal, inspired by Sir Ernest Shackleton's famous 1914 advert—in a London newspaper—recruiting men for a perilous Antarctic expedition? Channeling the same spirit of polar exploration one hundred years later, Susan R. Eaton, founder and leader of the 2014-2018 Sedna Epic Expedition, advertised for all-female crew in mid-2013. Ten female ocean explorers, aged 26 to 56, from Canada, the United States, Mexico and New Zealand answered this intriguing call to attempt a world record—a snorkel relay of the Northwest Passage—and to go 'where no man has gone before.' In parallel, Milos Simovic, the owner and captain of the MV Cape Race, a 116-foot side trawler converted to carry passengers, placed his own Shackleton-inspired advert for crew. In July 2014, Team Sedna will mount its proof-of-concept expedition to Labrador, Baffin Island and Greenland, aboard this Canadian-built vessel that's used to plying arctic waters.