SEDNA GOES THE DISTANCE, OFFSHORE LABRADOR AND GREENLAND
2016 SEDNA EPIC EXPEDITION
SEDNA EXPLORES FROBISHER BAY, NUNAVUT: FILM BY JOANNA LENTINI
SEA WOMEN TO SNORKEL NORTHWEST PASSAGE FOR CLIMATE CHANGE
THE 2014-2018 SEDNA EPIC EXPEDITION
Coinciding with the 100th anniversary of women's right to vote in Canada, the Sedna Epic Expedition's sea women will mount their third polar dive and snorkel expedition to the High Arctic (since 2014), scouting, documenting and recording disappearing sea ice.
The Sedna Epic is comprised of a team of women ocean explorers, scientists, artists, educators, adventurers, and medical and scuba diving professionals from Canada, the USA and Mexico. Sedna's sea women aim to create citizen scientists in Nunavut, empowering youth, girls and young women to become the next generation of Inuit leaders to tackle climate change, ocean change and societal change in the Arctic. During August 4-18, 2018, in partnership with Adventure Canada and Ocean Quest Adventures, Sedna's sea women will explore Nunavut and western Greenland (see press release for additional details).
The Sedna Epic's signature ocean knowledge mobilization program—called "bringing the ocean to eye level"—is the cornerstone of every arctic expedition. In consultation with Inuit advisors, Sedna's sea women deliver their hands-on, experiential ocean knowledge sharing program in Inuit communities, via mobile touch aquariums temporarily housing sea critters and by running underwater robot-building camps for youth. Taking the concept of "bringing the ocean to eye level" to its ultimate conclusion, Sedna's sea women lead Inuit girls and Elders on snorkel safaris to explore the marine biodiversity in their own backyards, so to speak…
Katujjiqatigii is Inuktitut for working together, shouldering the burden together, side by side. And, this spirit of North-South reconciliation and cooperation pretty much summarizes the Sedna Epic Expedition's mission and vision. Johnny Issaluk, one of Sedna's Inuit advisers from Nunavut, named Sedna's expedition Katujjiqatigiit, because of its North-South relationship building and its cross-cultural educational outreach.
Sedna's founder & expedition leader @SusanREaton_Geo got to chat with Dr. @SylviaEarle at the #DEMAshow in Las Vegas: The #SednaEpic is proud to partner with Dr. Earle's organization @MissionBlue #hopespots #oceans #scubadiving #OceanGeographic @DEMA_Show
Twitter feed video.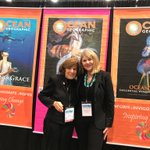 Load More...
Visit us on Twitter
Sedna's founder and expedition leader Susan R. Eaton got to chat with Dr. Sylvia A. Earle at the #DEMAshow in Las Vegas. The 2014-2018 Sedna Epic Expedition is proud to partner with Dr. Earle's ocean conservation organization, Mission Blue!

#sedna #sednaepic #sednaepicexpedition #seawomen #PADIwomen #polarwomen #snorkeling #scubadiving #arcticsnorkel #arctic #women4oceans #womenwhoexplore #hopespots #oceans #oceanliteracy #robots #ROVs #santidiving #OceanGeographic DEMA.org DEMA Show SANTI Diving Halcyon Dive Systems Fantasea Line Dive-Xtras Scuba 2000 Aquarius Scuba Dive Brockville Adventure Centre & Abucs Scuba Charters Great Lakes Divers Ocean Geographic The Explorers Club WINGS WorldQuest Royal Canadian Geographical Societyal Society] Canadian Geographic Canadian Geographic Education Arctic Focus Marine Institute PADI Michael AW ... See MoreSee Less
When other regions of Canada and world are struck with major environmental and natural disasters, communities, first responders and the media rush to their aid. Not so for the Inuit and other Indigenous peoples of our country, who have already experienced life-threatening emergencies on many levels, and are now at the front lines of the slow, multifaceted disaster that is climate change. Because temperatures in the Arctic are rising faster than anywhere else in the world, we must look to the experiences of Inuit as a harbinger of what is to come, and seek their guidance on how to live more sustainably.

Virtually every community across the North is now struggling to cope with extreme coastal erosion, thawing permafrost, and rapid destructive runoff, which particularly affects coastal communities in Alaska and in northern and western Canada. Despite our cold northern winters, sea ice remains in rapid decline. Glacial melt, long relied on for drinking water, is now unpredictable. In one stunning case, the Kaskawulsh Glacier in the Yukon has receded so far that its meltwater has changed direction, flowing south toward the Gulf of Alaska and the Pacific Ocean instead of north toward the Bering Sea. Ice that used to serve as our winter highways is giving way and invasive species are travelling much further north than ever before. While the impact and extent of each change varies across the North, the trends are consistent. The change is not just coming, it is already here. ... See MoreSee Less
Good grief. Seems like glacial retreat has slowed way down since Cook sailed past glacier bay. The only problem seems to be too many polar bears. The world has never been better. Were conditions during the little ice age really better than now? I don't think so. If they were, women would not have been burned as witches for the crop failures.
I have been saying this for decades Susan. If we had just listened more to Indigenous and Inuit people and followed their traditions and cultures this planet would not be in the mess it is today.
Load More...
Visit us on Facebook
Channeling Shackleton
Who would be crazy enough to answer such a cryptic appeal, inspired by Sir Ernest Shackleton's famous 1914 advert—in a London newspaper—recruiting men for a perilous Antarctic expedition? Channeling the same spirit of polar exploration one hundred years later, Susan R. Eaton, founder and leader of the 2014-2018 Sedna Epic Expedition, advertised for all-female crew in mid-2013. Ten female ocean explorers, aged 26 to 56, from Canada, the United States, Mexico and New Zealand answered this intriguing call to attempt a world record—a snorkel relay of the Northwest Passage—and to go 'where no man has gone before.' In parallel, Milos Simovic, the owner and captain of the MV Cape Race, a 116-foot side trawler converted to carry passengers, placed his own Shackleton-inspired advert for crew. In July 2014, Team Sedna will mount its proof-of-concept expedition to Labrador, Baffin Island and Greenland, aboard this Canadian-built vessel that's used to plying arctic waters.