THE 2014-2018 SEDNA EPIC EXPEDITION
Coinciding with the 100th anniversary of women's right to vote in Canada, the Sedna Epic Expedition's sea women will mount their third polar dive and snorkel expedition to the High Arctic (since 2014), scouting, documenting and recording disappearing sea ice.
The Sedna Epic is comprised of a team of women ocean explorers, scientists, artists, educators, adventurers, and medical and scuba diving professionals from Canada, the USA and Mexico. Sedna's sea women aim to create citizen scientists in Nunavut, empowering youth, girls and young women to become the next generation of Inuit leaders to tackle climate change, ocean change and societal change in the Arctic. During August 4-18, 2018, in partnership with Adventure Canada and Ocean Quest Adventures, Sedna's sea women will explore Nunavut and western Greenland (see press release for additional details).
The Sedna Epic's signature ocean knowledge mobilization program—called "bringing the ocean to eye level"—is the cornerstone of every arctic expedition. In consultation with Inuit advisors, Sedna's sea women deliver their hands-on, experiential ocean knowledge sharing program in Inuit communities, via mobile touch aquariums temporarily housing sea critters and by running underwater robot-building camps for youth. Taking the concept of "bringing the ocean to eye level" to its ultimate conclusion, Sedna's sea women lead Inuit girls and Elders on snorkel safaris to explore the marine biodiversity in their own backyards, so to speak…
Katujjiqatigii is Inuktitut for working together, shouldering the burden together, side by side. And, this spirit of North-South reconciliation and cooperation pretty much summarizes the Sedna Epic Expedition's mission and vision. Johnny Issaluk, one of Sedna's Inuit advisers from Nunavut, named Sedna's expedition Katujjiqatigiit, because of its North-South relationship building and its cross-cultural educational outreach.
For the past five years, Indigenous photographer @kiliiiyuyan @NatGeoMag has joined the #Inupiat of northern Alaska who spend weeks on the tuvaq—the ice near the water—hunting bowhead whales migrating from the #BeringSea to the Canadian #Arctic #NatGeo
Meet the bowhead whale hunters of northern Alaska
Each spring, local hunters sit on the edge of the ice and wait for whales—a custom that's at least 1,000 years old.
on.natgeo.com
Colour coordination: The #SednaEpic's expedition partners #SANTIdiving and @HalcyonDiving launched this lime green & grey Eclipse #LadiesFirst Wing buoyancy compensator to match our drysuits at the #DEMAshow in Las Vegas #seawomen #PADIwomen #scubadiving #polardiving @DEMAorg
Twitter feed video.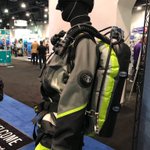 Load More...
Visit us on Twitter
Nunavut Tunngavik Inc., the Nunavut-wide Inuit organization, has joined in the push for Canada to ban heavy fuel oil from Arctic waters.

This fuel, a toxic, tar-like sludge that's often abbreviated as HFO, is used by almost half the ships operating in the Arctic.

The oil burns slowly, and it's dirty, releasing black particles that irritate lungs and help warm the Arctic. And if it is ever spilled in cold waters, HFO could be impossible to clean up. A concerted campaign to ban the fuel from Arctic waters has met with success at the International Maritime Organization.

The IMO, the United Nations agency responsible for the safety and security of shipping and pollution by ships, is aiming to see the adoption of the HFO ban in 2021, and phase-in by 2023.

But countries don't have to wait until the IMO ban to take action.

Norway's Maritime Authority recently put out proposals that would support cleaner fuel use by vessels on its heritage fjords, as well as stricter limits on emissions and discharges from cruise ships.

The proposals would see a ban on HFO three years in advance of the ban now under consideration by the IMO.

To date, Canada and Russia have both supported the IMO's work to consider ways to mitigate the risks associated with HFO, but Canada has yet to take a position on a ban.

Concern over HFO's impacts prompted a resolution passed on Oct. 25 at NTI's annual general meeting, where delegates supported a resolution calling on the Government of Canada to ban "the use, carriage and transportation" of HFO in Arctic waters.

With this resolution, NTI joined the Inuit Circumpolar Council, Greenland and 14 countries in their condemnation of the dirty fuel oil, even if it means a switch to cleaner fuel might mean higher costs for shipping and resupply in the Arctic.

NTI's HFO motion, moved by Charlie Lyall and seconded by Stanley Anablak, who both come from western Nunavut communities near the increasingly travelled Northwest Passage, said HFO should be banned because it's generally "used by transportation and cruise ships traversing the Arctic waters." ... See MoreSee Less
On the North Slope of Alaska, the culture of the Inupiat centers on whales. Each spring, men and women spend weeks on the tuvaq—the ice near the water—watching for bowhead whales migrating north from the Bering Sea to the Canadian Arctic. When one is spotted, a team pushes an umiak onto the water. There is typically one chance to harpoon the whale. If the hunt is successful, each person in the village can receive a share of the meat.

This story of cultural continuity enthralled photographe Kiliii Yuyan. Yüyan is indigenous himself, a descendant of the Hezhe (Nanai in Russian) hunters and fishermen of northern China and southeast Siberia. Stories portraying indigenous communities as degraded or destitute miss their complexity, says Yüyan. "You have to be with them to see their full hope and their joy."

For 10 months in a span of five years, Yüyan lived among the Inupiat in Utqiaġvik (formerly known as Barrow). He camped with a crew on the sea ice to watch for whales, often volunteering for the night shift when the darkness and quiet set in. It's a silence quickly broken, he learned: When a whale comes, a spotter calls out its position, urging the crew to launch. "When they're close, [the noise] is not faint," he says. "It's notable. They sing songs. It's like a musical."
National Geographic National Geographic Magazine Kiliii Yuyan, Photographer ... See MoreSee Less
Load More...
Visit us on Facebook
Channeling Shackleton
Who would be crazy enough to answer such a cryptic appeal, inspired by Sir Ernest Shackleton's famous 1914 advert—in a London newspaper—recruiting men for a perilous Antarctic expedition? Channeling the same spirit of polar exploration one hundred years later, Susan R. Eaton, founder and leader of the 2014-2018 Sedna Epic Expedition, advertised for all-female crew in mid-2013. Ten female ocean explorers, aged 26 to 56, from Canada, the United States, Mexico and New Zealand answered this intriguing call to attempt a world record—a snorkel relay of the Northwest Passage—and to go 'where no man has gone before.' In parallel, Milos Simovic, the owner and captain of the MV Cape Race, a 116-foot side trawler converted to carry passengers, placed his own Shackleton-inspired advert for crew. In July 2014, Team Sedna will mount its proof-of-concept expedition to Labrador, Baffin Island and Greenland, aboard this Canadian-built vessel that's used to plying arctic waters.